With the Loudhouse becoming a huge hit, Nickelodeon decided to interact directly with fans. To do so I created and directed Nickelodeon's first LIVE animated cartoon. We streamed an "AMA" (Ask Me Anything) with Lincoln from his living room. My goal was to approach this from the main character's perspective (Lincoln Loud) and have the stream feel like an 11-year-old's first stream after he's come home from school. Lincoln has 10 sisters so the household is busy! And we wanted to make it feel that way. Not only is Lincoln interrupted immediately and told to do chores, he's also joined by one of his sister's (Lucy Loud). This was also my excuse to be able to have multiple character interaction (which was not only a technical challenge - streaming multiple puppets at once- but an opportunity to heighten the acting and interest).
Here are a few of my favorite moments:
A quick look behind the scenes…
I think I should point out that this was a cartoon made in realtime…like…live…Anything could go wrong! So while you watch the clips above and see Lincoln and Lucy speaking, just remember that a puppeteer was animating those characters while listening to an actor or actress deliver lines as they were given to them by a writer who wrote those lines then and there to talk with and answer questions from the audience as they came in!
Live is cool! But so is making things fast!
With Loudhouse Live successful we weren't done with the Lincoln and Lucy puppets and what Adobe Character Animator could do. So aside from performing Live we used our process in another way - to create "same day" animation. We wanted Lincoln and Lucy talking directly to fans and by mixing in a lot of different software, story telling craft, and a talented animation crew we "continued the conversation" in other unique ways on different social platforms.
Instagram is a great place for visual storytelling in small bites and perfect for the fast turnaround nature of our process. While keeping the quality high and looking as close to the show aesthetics as possible, we made close to 50 animated segments for the Loudhouse Instagram account. This direct interaction between character was meaningful and positive!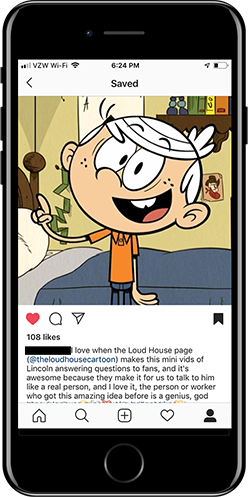 "I love when the loud house page
makes this mini vids of Lincoln answering questions
to fans, and it's awesome because they make it for us to talk to him like a real person, and I love it…"
-comment from a fan about the Loudhouse Instagram Posts.
Here are few of those Instagram videos. While my favorites are always Lucy related, Lincoln facetiming with Ronnie Anne was interesting. Not only were we able to use this as a moment to extend the world and story beyond the linear series but also to see how interested fans were in side characters. (The Lincoln puppet was the very first puppet I made so it's slightly limited. Gotta start somewhere!) By changing the Backgrounds, changing up the acting and keeping the clips short these segments were fresh and added a lot to the Instagram account that wouldn't be possible with a traditional pipeline.
The fast turnaround and expediency of making these segments with our process allowed us to do goofy, fun stuff, too (in a cost effect way, while still maintaining the quality of the show).
With Fortune Fridays, Lucy read fortunes from her crystal ball every week.